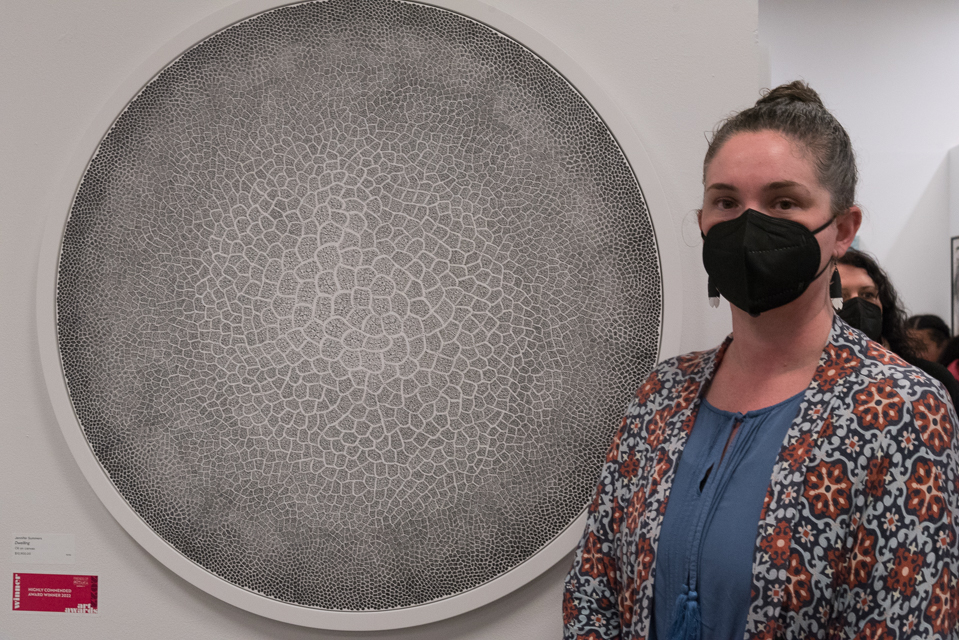 In 'Dwelling', Jennifer is capturing the Kiwi suburban quarter-acre sections, houses and wide streets merging into smaller ones. This was her first work on a round canvas, and she drew from the centre to the edge with a very fine pen, the view from above, in Indian ink on acrylic and wood. . From a distance the texture and pattern are reminiscent of snakeskin or tortoiseshell – until you move closer.
Jennifer explains: "Casting your eye over the whole drawing, the sphere will emerge, slightly disjointed, and reminiscent of a never-ending maze in which no-one gets to the impenetrable finish line. Observing the artwork up close, the second subject matter rises revealing the suburban housing that constitutes each of the segments. The increasing density on the outer portions creates a sense of unease, particularly when we dwell upon the ongoing question of equity in housing".
Jennifer has been doing her map drawings since she was five years old, so it has become second nature to her to draw a huge map from nothing. She got back into map drawing in London ten years ago, encouraged by artist cousins, exhibiting for the first time and selling a work on tapa cloth. She is now experimenting with different perspectives.
Art Awards 2022 | Judges | 2022 Winners: Roger Hayman | Jennifer Summers | Adele Mathews | Clare Matthews |
ART AWARDS GALLERIES: 2013 • 2014 • 2015 • 2016 • 2017 • 2018 • 2019 • 2020 • 2022